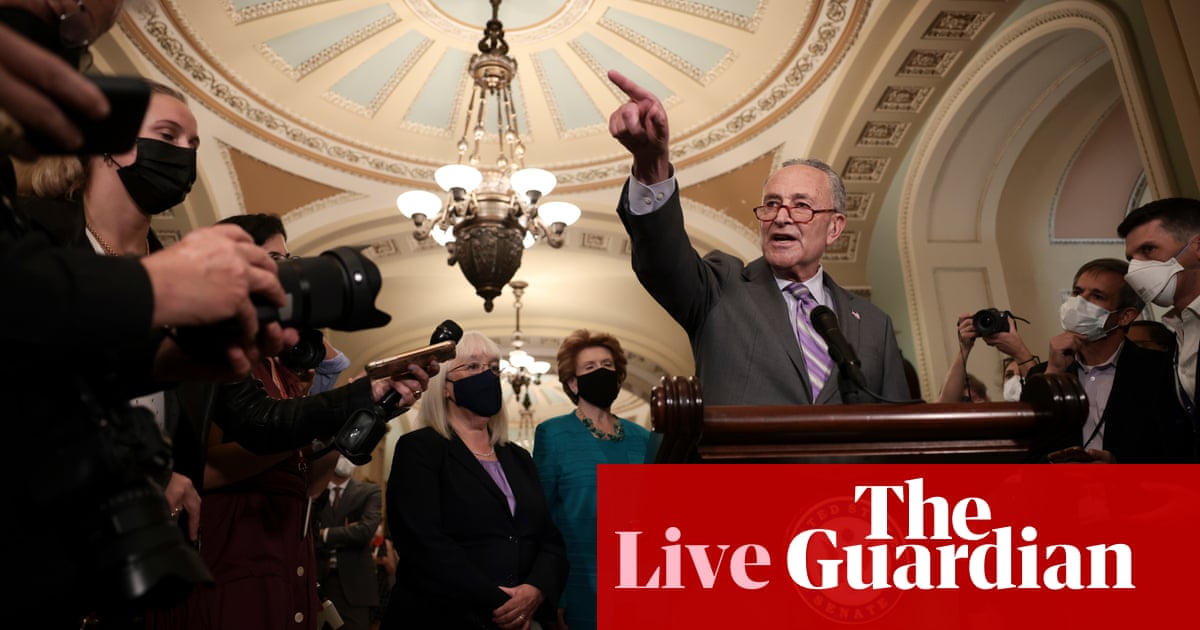 Covid restrictions have been setting off fueling a surge in recall efforts across the country, at every level of government.
In California, governor Gavin Newsom handily defeated a recall attempt last month, while opponents of the first socialist on the city council of Seattle in nearly a century have qualified for an election in December.
Read more here:
Axios is reporting that senator Bernie Sanders asked that his name not be included in a joint statement condemning last weekend's protests against senator Kyrsten Sinema at Arizona State University, where she is a lecturer.
Activists with Living United for Change in Arizona had followed Sinema into a bathroom, urging her to pass the $3.5tn reconciliation bill that she is holding up in negotiations. The group later said they wouldn't have had to resort to such tactics if the senator would meet with her constituents. "She's been completely inaccessible," the group tweeted.
According to Axios, Sanders' team had asked that the statement be edited to include the preface, "While we hope Senator Sinema will change her position on prescription drug reform and support a major [budget] reconciliation bill…"
Booker's aides did not accept the edit, and Sanders asked that he not be included in the statement that was signed senate majority leader Chuck Schumer and senators Dick Durbin, Mark Warner, Elizabeth Warren, Joe Manchin, Amy Klobuchar and Catherine Cortez-Masto.
Progressives in the party like Sanders have been butting heads with centrists Sinema and Machin, who are siding with Republicans in believing that the reconciliation bill is too large. Yesterday, he took both Manchin and Sinema to task on the issue, saying Manchin and Sinema won't say specifically what they want.
It appears junior senator Cory Booker is bringing a little extra pep to the assignment as he presides over the Senate chamber:
Now almost a full year later, Republicans in several states are still continuing their partisan reviews of the 2020 election results
"They have slight differences tactically, but they all share the same strategic goals, which are primarily to continue to sow doubt about the integrity of American elections overall," said David Becker, the executive director of the Center for Election Innovation & Research, and an election administration expert who has denounced the reviews. "I don't know that there's a word to describe how concerning it is."
Read more here:
Senate majority leader Chuck Schumer is moving forward with a cloture vote on the deal he cut with minority leader Mitch McConnell on extending the debt limit by $480bn to 3 December.
Returning to the Senate judiciary committee report on Donald Trump and his efforts to pressure the Justice Department into overturning the 2020 presidential election, senator Dick Durbin is now asking the Washington DC Bar to open an investigation into Trump ally Jeffrey Clark.
Here are some more details on the deal to extend the debt limit through December:
It's been a tense week of back-and-forth between Democrats and Republicans, bluffs on the filibuster, rebukes from the White House and scary words thrown like "economic catastrophe".
It may seem like all is well now with this deal and the Dow immediately up 530 points. But December is not as far away as we'd like to think it is. And within really just a few short weeks, we'll be doing this all over again.
Senate minority leader Mitch McConnell has taken the floor now to throw some jabs at the Democrats over the deal to extend the debt limit through early December:
Reminder that much of the purpose behind the efforts of the Republicans to block the Democrats on the debt ceiling via filibuster was to sow chaos, especially around the issue on the Democrats' domestic spending. The Biden administration has two crucial – and pricey – pieces of legislation before Congress at the moment, the $1.2tn bipartisan infrastructure bill and the $3.5tn reconciliation "human infrastructure" bill. Republicans repeatedly pointed at those two bills as proof that spending was out of control and reasons why they couldn't support raising the debt limit – even though funding for these bills have nothing to do with the national debt.
If you thought they were exaggerating with the words "economic catastrophe," they really weren't: within minutes of Senate majority leader Chuck Schumer announcing that he had reached a deal with minority leader Mitch McConnell to extend the debt limit until early December, the Dow went up 530 points.
Senate majority leader Chuck Schumer announced just now that there is an agreement between him and minority leader Mitch McConnell on suspending the debt limit through early December.
Leaders on Capitol Hill were in discussions past midnight over raising the debt limit and avoiding economic catastrophe.
To recap: Congress must vote to raise the country's debt ceiling, our artificially imposed borrowing limit, by 18 October, or risk the US defaulting on its debts for the first time in its history. Defaulting on our debts means "salaries to service members will stop. Benefits to veterans will stop, and much more," Joe Biden said yesterday.
"A failure to raise the debt limit will undermine the safety of the United States' treasury securities, threaten reserve status of the dollar as a world currency that the world relies on, downgrade America's credit rating and result in a rise in interest rates for families talking about mortgages, auto loans, credit cards," he continued.
Democrats could raise the debt limit with a simple majority vote, which they have, but Republicans have twice used the filibuster to block their efforts – it takes 60 votes to break a filibuster.
Republicans want Democrats to raise the debt limit "on their own" via budget reconciliation, a lengthy and complicated process ironically meant to make legislation easier to pass in the Senate – and one that would also stymie the Biden legislative agenda. Congress can at most only consider three budget reconciliation bills a year – one has already gone to the Covid bill this year, and with the "human infrastructure" reconciliation bill and voting rights still ahead, Democrats rightfully want to reserve this tactic for their heavier legislation.
So Democrats decided to bluff, with Biden pulling an about-face on his stance on changing the filibuster rules and senator Chris Coons teasing that they possibly had 50 votes to do so. Centrist Democrat senator Joe Manchin pretty much immediately killed that lie, saying his stance on the filibuster hadn't changed, but soon after, senate minority leader Mitch McConnell came forward with the smallest of concessions.
McConnell proposed either a short-term, fixed-amount raise of the debt ceiling, to December, or an expedited budget reconciliation process.
Leadership spent the rest of the night in meetings discussing these deals, and that brings us to now.
Some Democrats are saying that these proposals are still not enough: McConnell would still be asking for budget reconciliation in December and Democrats absolutely do not want that.
White House press secretary Jen Psaki said yesterday said while discussions were still ongoing, there was a clear solution in that Republicans could just stop using the filibuster to block the Democrats and allow them to raise the debt ceiling on their own without budget reconciliation.
"We could get this done today," she said. "We don't need to kick the can. We don't need to go through a cumbersome process that every day brings additional risks."
Senator Chuck Grassley also released the GOP version of the report on Donald Trump and his attempts to use the Justice Department to overturn the 2020 presidential election.
In this report, Grassley claimed that "the available facts and evidence show that President Trump listened to his senior DOJ and White House advisors at every step of the fact pattern presented by this investigation and that he did not weaponize DOJ for his personal or campaign purposes."
"President Trump's focus was on 'legitimate complaints' and 'reports of crimes,'" the GOP report states. "President Trump was inundated with information about election fraud allegations and witnesses testified that they believe he was wrongly informed by some people within his circle. However, when presented with the opportunity to order DOJ to take certain actions that would have been against the advice and recommendations of his senior counsel, such as terminating Rosen and sending Clark's letter, the President did not take those actions."
Hello, live blog readers. Happy almost-Friday.
The Senate judiciary committee released today an interim report on Donald Trump and his efforts to pressure the justice department into overturning the 2020 presidential election.
Some key findings:
Trump repeatedly asked DoJ leadership to endorse his false claim that the election was stolen and declare the election "corrupt".
White House chief of staff Mark Meadows asked acting attorney general Jeffrey Rosen to initiate election fraud investigations on multiple occasions – a violation of longstanding restrictions on communications between the White House and the justice department about specific law enforcement matters.
Trump ally Jeffrey Bossert Clark told Rosen he would decline Trump's potential offer to install him as acting attorney general if Rosen agreed to publicly announce that the DoJ was investigating election fraud and tell key swing state legislatures they should appoint alternate slates of electors following certification of the popular vote.
Trump forced the resignation of US attorney Byung Jin ("BJay") Pak, whom he believed was not doing enough to address false claims of election fraud in Georgia, and then went outside the line of succession to appoint someone he believed he "do something" about his election fraud claims.
In addition to Trump White House officials, outside Trump allies with ties to the "Stop the Steal" movement and the 6 January attack on the US Capitol also pressured the DoJ to help overturn the election results.
By pursuing false claims of election fraud before votes were certified, the justice department deviated from a longstanding practice meant to avoid inserting the justice department itself as an issue in the election.
For the full report, click here.