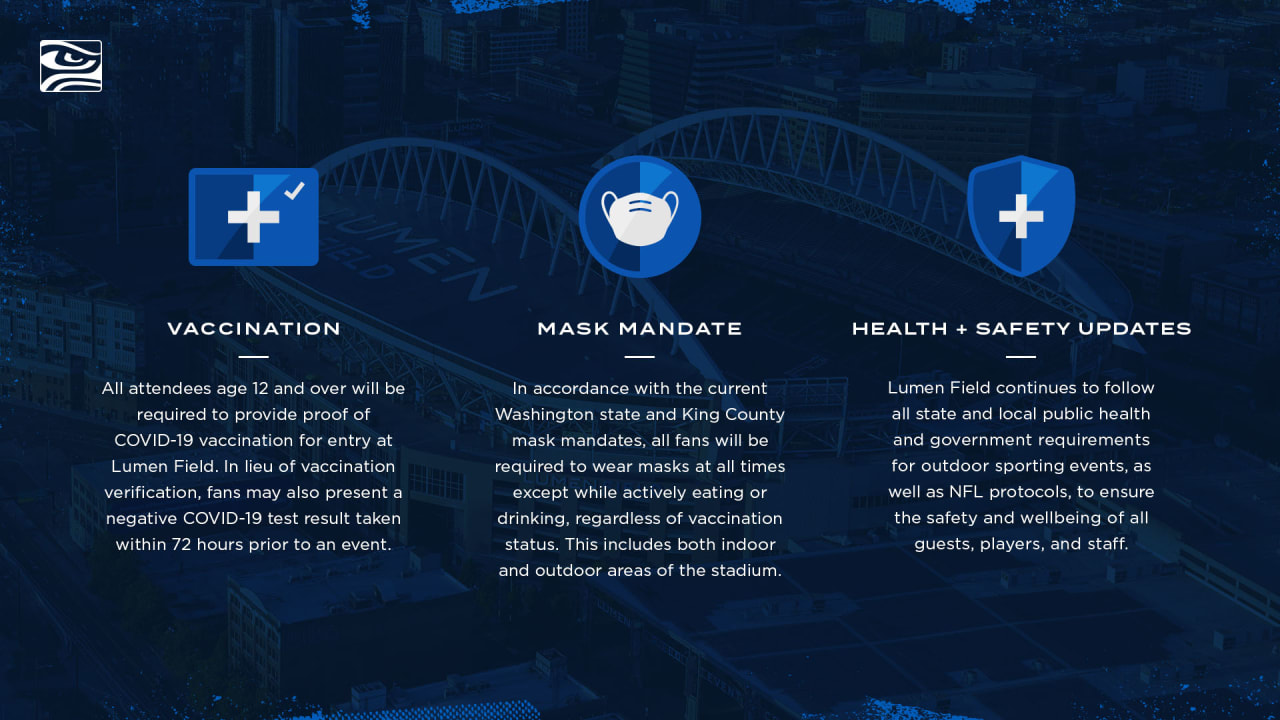 Anna Brophy from Redmond, Oregon asks, "Can the COVID test be an at-home test? I'm vaccinated but I'm taking my son who is not?"
A: Depending on how old your son is, he may not need a test at all—children under 12 do not require a negative test for entry, though if they're 5 or older they do need to wear a mask. If your son is 12 or older, he will need a negative test taken within 72 hours, and an at-home test will not be accepted unless they meet CDC guidelines including real-time, remote supervision and identity confirmation. If you'll be in Washington within the 72-hour window you can find information on how to find a test location at the Washington State Department of Health website. For testing information in Oregon, go to govstatus.egov.com/or-oha-covid-19-testing.
Several fans have asked what specific proof of vaccination or negative test is required for entry.
A: Your vaccination card must have the following:
Name
Site where the vaccine was administered
Date of each vaccine dose
For a negative COVID-19 test:
Name
Site where test was administered
Date of test (must be within 72 hours of kickoff)
Result of test (negative)
Either a physical or digital copy of your vaccination card or negative test result will suffice. If you were vaccinated in Washington and can't find your card, you can retrieve your card at the Washington Department of Health website.
Scott Wilson from Vancleave, Mississippi asks, "We're traveling to Seattle for the first time on September 17 and plan to go to the game on the 19th. I will take my first COVID test Tuesday before the flight. In order to go the game, how far in advance to I need a test?"
A: Hi Scott, first off, I love the dedication of coming all the way from Mississippi for a game. Hope you appreciate good guard play, as both of the Seahawks' starting guards, Gabe Jackson and Damien Lewis, are from Mississippi. But anyway, I digress. Getting tested before leaving is the smart and responsible thing to do, so good on you for that, but unfortunately a test on Tuesday won't suffice for getting into the game, so you'll need to get tested again withing the 72-hour window, which in the case of the game in question would mean getting tested after 1:25 p.m. Pacific Time on Thursday, September 16. As mentioned above, you can find a test location at the Washington State Department of Health website if you want to get tested after you leave, or you could get tested before leaving so long as it's after 1:25 p.m. PT on Thursday. If you're staying in the Seattle area, here's another resource for finding locations. I've personally tested and/or had my kids tested at a couple of these and they're fast and efficient, and usually turn around results within 12-24 hours (though read all the fine print and don't hold me to that timeframe; I'm just a writer, not a health official).