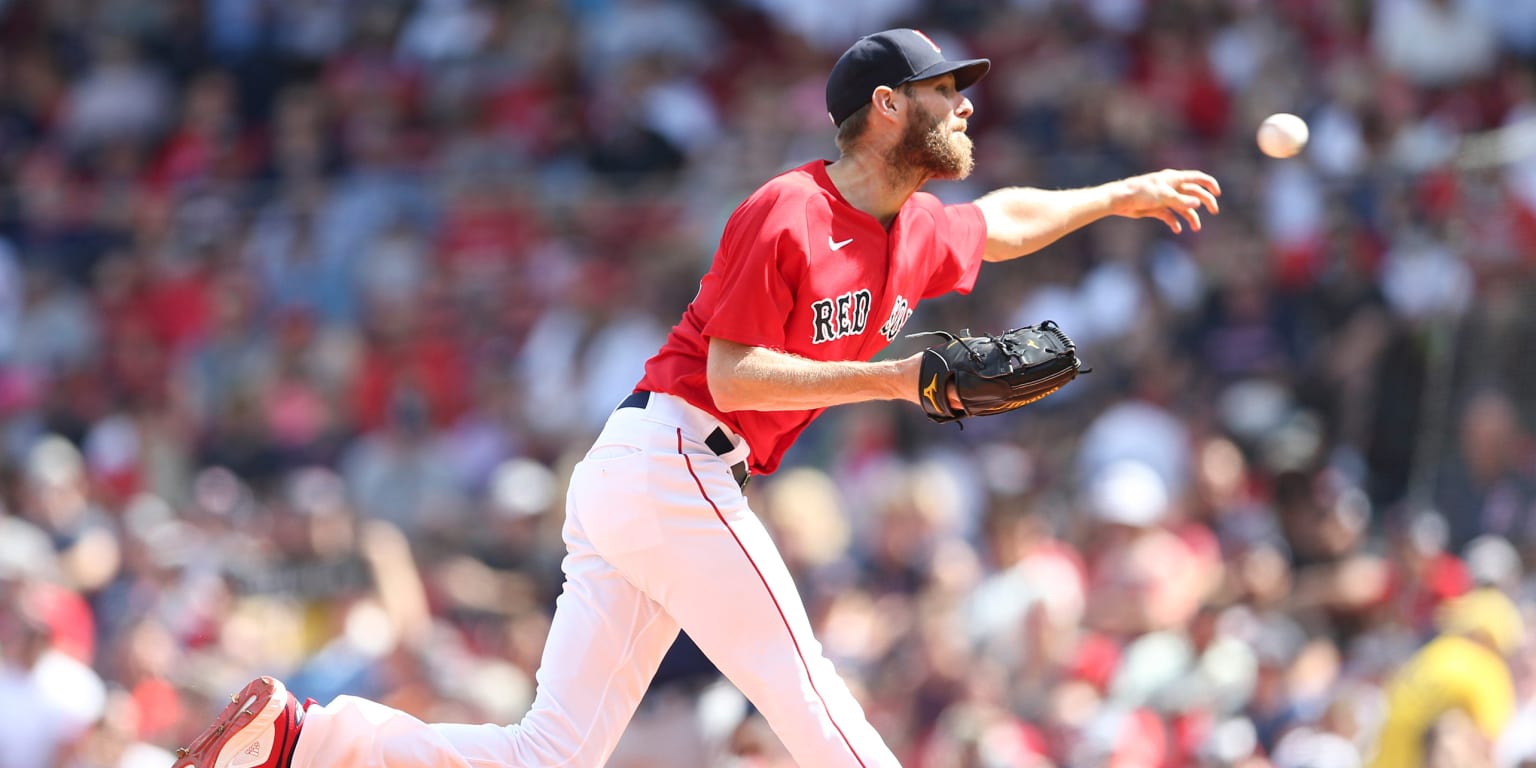 CHICAGO — Just when the Red Sox seemed to be distancing themselves from a recent COVID-19 outbreak, ace Chris Sale tested positive and won't make his scheduled start on Sunday against the White Sox, the club announced a few hours prior to Friday night's series opener.
The Red Sox learned of Sale's positive test on Thursday, and that timing was fortunate because the lefty didn't get on the plane to Chicago, which would have put other players at risk of infection.
"At this point, nothing shocks me, to be honest with you," said Red Sox manager Alex Cora. "On a daily basis, we go through our process and we just hope for good news. This is where we're at. It's unfortunate, but he'll be back. He feels good. He actually feels great and hopefully he can come back right away when his 'X' amount of days are done."
The news wasn't all bad on Friday though. Star shortstop Xander Bogaerts returned to the team after being quarantined in St. Petersburg, Fla., for 10 days, and he will bat cleanup in the opener against the White Sox.
After discussions with Bogaerts, Cora didn't hesitate to put his longest-tenured player back in the lineup right away.
"You've got to trust Xander, right? He's not going to go out there just to get four at-bats and not be competitive," Cora said. "He feels that he's in good shape. He'll do a lot of stuff today, get that [pitching] machine going, so he can train his eyes, and hopefully he can run into a few pitches and hit it in the air and hit a homer."
From Aug. 27-Sept. 5, the Red Sox placed 11 players on the COVID-19 injured list. Sale is the 12th Boston player to go on the list in the past two weeks, with 10 of them testing positive.
With the Red Sox in the middle of an intense fight to claim one of the two American League Wild Card spots, Sale's loss is untimely to say the least. Sale has been excellent in five starts this season since returning from Tommy John surgery; the 32-year-old left-hander is 3-0 with a 2.52 ERA and 30 strikeouts in 25 innings.
Aside from his performance, Sale has been credited numerous times by Cora for the leadership he has displayed while the Red Sox have played with a depleted roster.
It is uncertain who will replace Sale in the rotation on Sunday. Cora did say that Nick Pivetta, who is on the COVID-19 injured list, is a potential option to replace Sale, though he wasn't in Chicago as of Friday.
Saturday's spot in the rotation is also TBD due to Pivetta's situation. Speculation is that the team's No. 13 prospect, righty Connor Seabold, will take that turn in the rotation. As a member of the taxi squad, Seabold was on the field prior to Friday's game.
The Red Sox's COVID-19 outbreak started when Kiké Hernández tested positive at the beginning of a road trip two weeks ago. The invaluable sparkplug returned to the club on Tuesday.
The Red Sox are still missing several other key players, including high-leverage relievers Matt Barnes and Hirokazu Sawamura.
Barnes and Sawamura were with the team on Friday, and both played catch and were expected to throw a bullpen session prior to the game.
Saturday is the earliest either could be activated.
"We've got to be realistic, too, how much can they contribute? Is only one bullpen enough? But we've got to sit down as a group, sit down with the two players, and map out what's best for them," said Cora. "At the end of the day we have to look out for their health, and also we have to take care of the club. So we'll talk about it and make decisions depending on how they feel. They're not going to be active today."
As for Sale, the earliest he is likely to return is on Sept. 19 against the Orioles. Most players who test positive are required to quarantine for a minimum of 10 days, though that timetable can be expedited for players who are vaccinated.
It is unknown if Sale is vaccinated. Sale also had COVID-19 during the offseason.