This daily round-up brings you a selection of the latest news and updates on the COVID-19 coronavirus pandemic, as well as tips and tools to help you stay informed and protected.
Top stories: Demand for rapid COVID-19 tests surging in US; India court orders compensation for COVID-19 deaths; AstraZeneca requests emergency US approval for antibody shot.
1. How COVID-19 is affecting the globe

Confirmed cases of COVID-19 have passed 235.8 million globally, according to Johns Hopkins University. The number of confirmed deaths stands at more than 4.81 million. More than 6.36 billion vaccination doses have been administered globally, according to Our World in Data.
New daily COVID-19 cases have fallen in Australia, with authorities looking to ease tough restrictions as vaccination rates rise.
South Korea will start vaccinating pregnant women against COVID-19. The country is accelerating its vaccination drive in an effort to immunize 80% of adults by the end of October.
Spain has approved booster shots of the Pfizer/BioNTech and Moderna COVID-19 vaccines in people aged 70 and over.
AstraZeneca has requested emergency approval from US regulators for its COVID-19 anitbody shot – the first such jab, other than vaccines, against COVID-19.
New COVID-19 cases reported in Britain between 29 September and 5 October were down 2.3% compared to the previous seven days.
Singapore has reported its highest single-day rise in confirmed new COVID-19 cases since the start of the pandemic.
Turkey reported 29,802 new COVID-19 cases yesterday, the highest figure since 30 April. Health Minister Fahrettin Koca urged citizens to get vaccinated and follow personal hygiene and distancing measures.
Researchers think 'COVID toe' – chilblain-like lesions on toes and fingers – seems to be a side effect of the body's attempts to fight off the virus.
2. Demand for rapid COVID-19 tests surging in the US

Officials say that rapidly rising demand for COVID-19 tests from employers in the United States is exacerbating a nationwide shortage of rapid tests.
Test makers are scaling up production, but significantly boosting output could take weeks to months, industry executives told Reuters.
"Employer demand has gone crazy," said Quidel Chief Executive Doug Bryant. "We won't be able to meet all the requests that we're having."
Nearly a dozen state governments said they are grappling with shortages of rapid tests, which provide on-the-spot results within minutes and are crucial for COVID-19 surveillance programmes.
US employers have been stockpiling tests after the White House said it plans to mandate weekly testing for unvaccinated staff at businesses with more than 100 employees.
3. India's top court orders compensation for COVID-19 deaths

India's top court has ordered state authorities to pay 50,000 rupees ($672) as compensation for each death caused by COVID-19, according to its order reviewed by Reuters.
India has recorded nearly half a million deaths in total, but experts say this is likely significantly short of the real total.
Petitioners had appealed to the Supreme Court to provide at least eight times the compensation, or 400,000 rupees, under the National Disaster Management Authority, through which the government provides some financial help in natural disasters such as earthquakes.
Each of our Top 50 social enterprise last mile responders and multi-stakeholder initiatives is working across four priority areas of need: Prevention and protection; COVID-19 treatment and relief; inclusive vaccine access; and securing livelihoods. The list was curated jointly with regional hosts Catalyst 2030's NASE and Aavishkaar Group. Their profiles can be found on www.wef.ch/lastmiletop50india.
Top Last Mile Partnership Initiatives to collaborate with: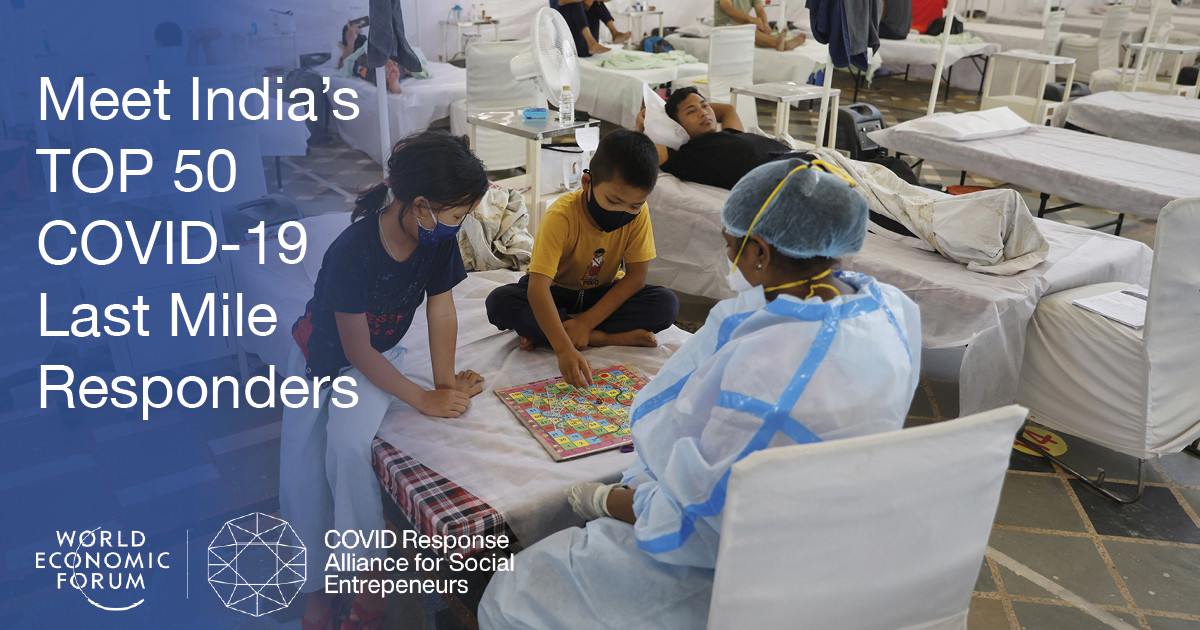 The government, in its affidavit, which was approved by the top court, agreed to the minimum payable amount to be disbursed by local authorities under the State Disaster Response Fund.
"All concerned authority shall act as a helping hand, so as to wipe off the tears of those who have suffered due to loss of a family member due to COVID-19," the Supreme Court said in its order.