Boise police on Monday responded to reports of "shots fired" at a mall on N. Milwaukee where at least two people were killed and six people – including a cop – were injured.
One suspect is in custody and officers are working their way through the mall to clear each business, Boise police said, adding later that some shoppers were still trapped inside the mall.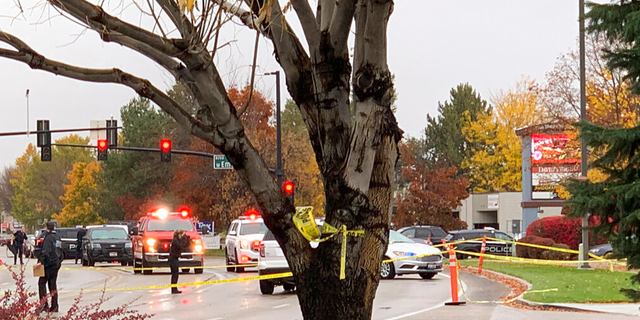 "I cannot stress enough how traumatic this event is for the community at large as well as for those that were witnesses or are the family of those involved or involved themselves," an officer told reporters at a press conference.
Police said officers responded to reports of "shots fired" around 1:15 p.m. local time at the Boise Towne Square shopping mall.
SUSPECT WHO SHOT CHICAGO COP IN FACE SAID 'YOU WILL DIE' AFTER OPENING FIRE, PROSECUTORS SAY
Responding officers encountered an individual who matched the suspect's description and there was an exchange of gunfire, police said. One of the officers was injured amid the gunfire and the suspect was arrested.
Police said they have no further information indicating additional threats and believe the suspect acted alone.
Terrifying footage shared online shows people running for the exits while what sounds like gunshots can be heard firing off somewhere in the distance.
North and southbound lanes on Milwaukee Street Between Emerald and Franklin roads were closed amid the investigation, Ada County Highway District said. Police were asking people to avoid the area.
Fox News has reached out to Boise police seeking further comment.
Police are working to notify the victims' families. An investigation is ongoing.
Police are also investigating what appears to be another crime scene at a restaurant near the mall but it was unclear what relation, if any, that had to the mall shooting.
Cheri Gypin, of Boise, was in the mall with a friend where they walk for an hour three or four times a week. She said she heard several large bangs, but thought something had fallen from the ceiling. Then about 60 people, including families pushing strollers, came running at them, some of them shouting that there was an active shooter.
NORTH CAROLINA POLICE RESPOND TO REPORTS OF A SHOOTING AT MALL AFTER 'LOUD SOUND' SENDS PEOPLE SCRAMBLING
"My friend was trying to process it," said Gypin, 60. "I just looked at her and said, 'We've got to run.' So we just ran and kept running until we got to the outer perimeter of the parking lot."
They made their way back to their car, where police told the crowd of people who had fled the mall to leave the parking area.
The Boise Towne Square shopping mall is located in Idaho's largest city and is the city's largest mall.
CLICK HERE TO GET THE FOX NEWS APP
Monday's shooting comes amid an increase in mall shootings. Earlier this month, four people were shot and two others were injured while fleeing the scene of a shooting at a Park City Center mall in Lancaster, Pennsylvania.
The Associated Press contributed to this report.